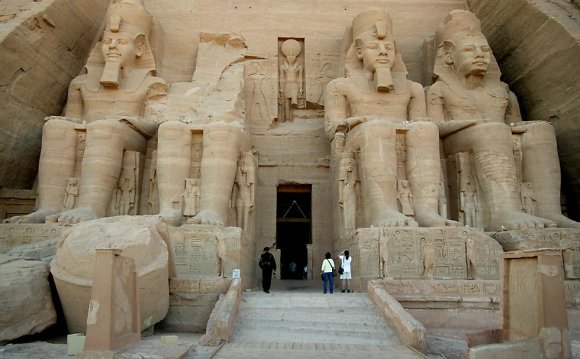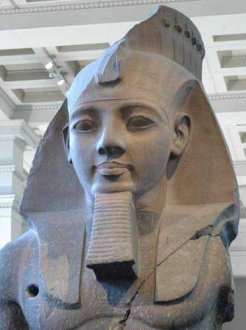 Ramesses II
Ramesses II (c. 1303 BC - July or August 1213 BC), referred to as Ramesses the Great, was the third Egyptian pharaoh (reigned 1279 BC - 1213 BC) of the Nineteenth Dynasty. He is often regarded as the greatest, most celebrated, and most powerful pharaoh of the Egyptian Empire. His successors and later Egyptians called him the "Great Ancestor".
Ramesses II led several military expeditions into the Levant, re-asserting Egyptian control over Canaan. He also led expeditions to the south, into Nubia, commemorated in inscriptions at Beit el-Wali and Gerf Hussein.
At age fourteen, Ramesses was appointed Prince Regent by his father Seti I. He is believed to have taken the throne in his late teens and is known to have ruled Egypt from 1279 BC to 1213 BC for 66 years and 2 months, according to both Manetho and Egypt's contemporary historical records.
He was once said to have lived to age 99, but it is more likely that he died in his 90th or 91st year. If he became Pharaoh in 1279 BC, as most Egyptologists today believe, he would have assumed the throne on May 31, 1279 BC, based on his known accession date of III Shemu day 27.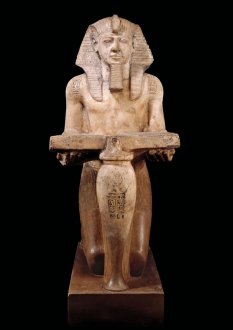 Ramesses II celebrated an unprecedented 14 sed festivals (the first held after thirty years of a pharaoh's reign, and then every three years) during his reign - more than any other pharaoh. On his death, he was buried in a tomb in the Valley of the Kings - his body was later moved to a royal cache where it was discovered in 1881, and is now on display in the Cairo Museum.
The early part of his reign was focused on building cities, temples and monuments. He established the city of Pi-Ramesses in the Nile Delta as his new capital and main base for his campaigns in Syria. This city was built on the remains of the city of Avaris, the capital of the Hyksos when they took over, and was the location of the main Temple of Set. He is also known as Ozymandias in the Greek sources, from a transliteration into Greek of a part of Ramesses's throne name, Usermaatre Setepenre, "Ra's mighty truth, chosen of Ra".
Ramesses II had 200 wives and concubines, 96 sons and 60 daughters.
Buildings and Monuments
Ramesses built extensively throughout Egypt and Nubia, and his cartouches are prominently displayed even in buildings that he did not actually construct. There are accounts of his honor hewn on stone, statues, remains of palaces and temples, most notably the Ramesseum in the western Thebes and the rock temples of Abu Simbel. He covered the land from the Delta to Nubia with buildings in a way no king before him had done. He also founded a new capital city in the Delta during his reign called Pi-Ramesses; it had previously served as a summer palace during Seti I's reign.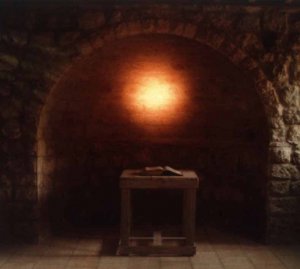 His memorial temple Ramesseum, was just the beginning of the pharaoh's obsession with building. When he built, he built on a scale unlike almost anything before. In the third year of his reign Ramesses started the most ambitious building project after the pyramids, that were built 1, 500 years earlier. The population was put to work on changing the face of Egypt.
In Thebes, the ancient temples were transformed, so that each one of them reflected honor to Ramesses as a symbol of this divine nature and power. Ramesses decided to eternalize himself in stone, and so he ordered changes to the methods used by his masons. The elegant but shallow reliefs of previous pharaohs were easily transformed, and so their images and words could easily be obliterated by their successors. Ramesses insisted that his carvings be deeply engraved in the stone, which made them not only less susceptible to later alteration, but also made them more prominent in the Egyptian sun, reflecting his relationship with the sun god, Ra.
Ramesses constructed many large monuments, including the archeological complex of Abu Simbel, and the Mortuary temple known as the Ramesseum. He built on a monumental scale to ensure that his legacy would survive the ravages of time. Ramesses used art as a means of propaganda for his victories over foreigners and are depicted on numerous temple reliefs. Ramesses II also erected more colossal statues of himself than any other pharaoh. He also usurped many existing statues by inscribing his own cartouche on them.
Abu Simbel
The Abu Simbel temples are two massive rock temples in Abu Simbel in Nubia, southern Egypt. They are situated on the western bank of Lake Nasser, about 230 km southwest of Aswan (about 300 km by road). The complex is part of the UNESCO World Heritage Site known as the "Nubian Monuments, " which run from Abu Simbel downriver to Philae (near Aswan).
The complex consists of two temples. The larger one is dedicated to Ra-Harakhty, Ptah and Amun, Egypt's three state deities of the time, and features four large statues of Ramesse II in the facade. The smaller temple is dedicated to the goddess Hathor, personified by Nefertari, Ramesses's most beloved of his many wives.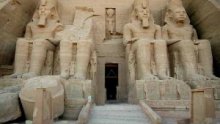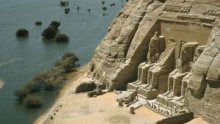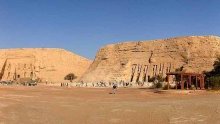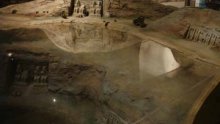 MORE TRANSLATION VIDEO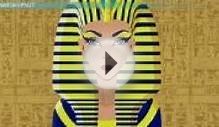 Queen Hatshepsut & Ramses the Great of Egypt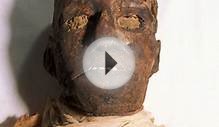 Ramses III - Royalty, Military Leader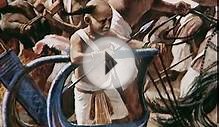 Ramses II, Ramses III and Cleopatra VII 1/3
Share this Post